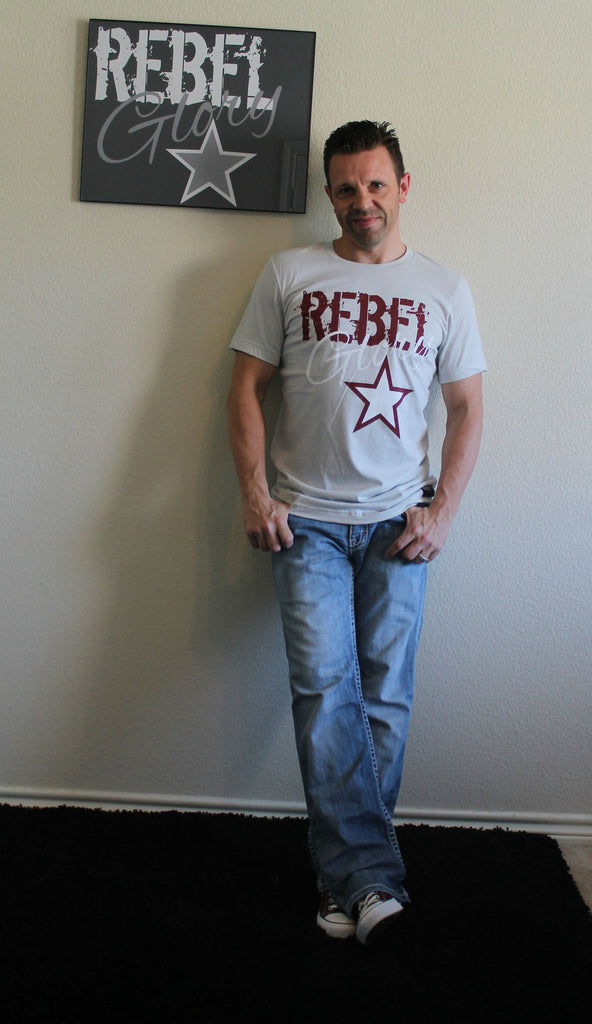 RG Grey Tee
RG Grey Tee

$25.00 + $5.00 Flat rate shipping

​Slim Fit unisex shirt

This is 100% cotton grey shirt.  On the front REBEL is printed in maroon across the chest.  Glory is in white.  The white star is white outlined in maroon.  On the back the REBEL GLORY logo is printed in white on either side of the white star outlined in maroon. 

JMR is wearing a Medium.  SRR is wearing a XSmall.

Size Chart
​Every garment and size is different.  Below are measurements averages as each shirt is made by hand therefore sizing will vary with each shirt.
​Size                Width (inches)           Length (inches)                        

XSmall              17.0                               27.5
​Small                 17.5                              29.0

Medium             19.5                              29.5

Large                 21.0                               29.0  

XL                       23.0                              31.0 

2XL                     25.0                              31.0

Measurement Instructions:

Width: Start at the arm pit and measure straight across from side to side.

Length: Measure from the edge of the back collar to bottom of garment.
​Proper care instructions:  In order to ensure color quality and to minimize fading of your apparel, it is recommended you wash inside out with cold water.