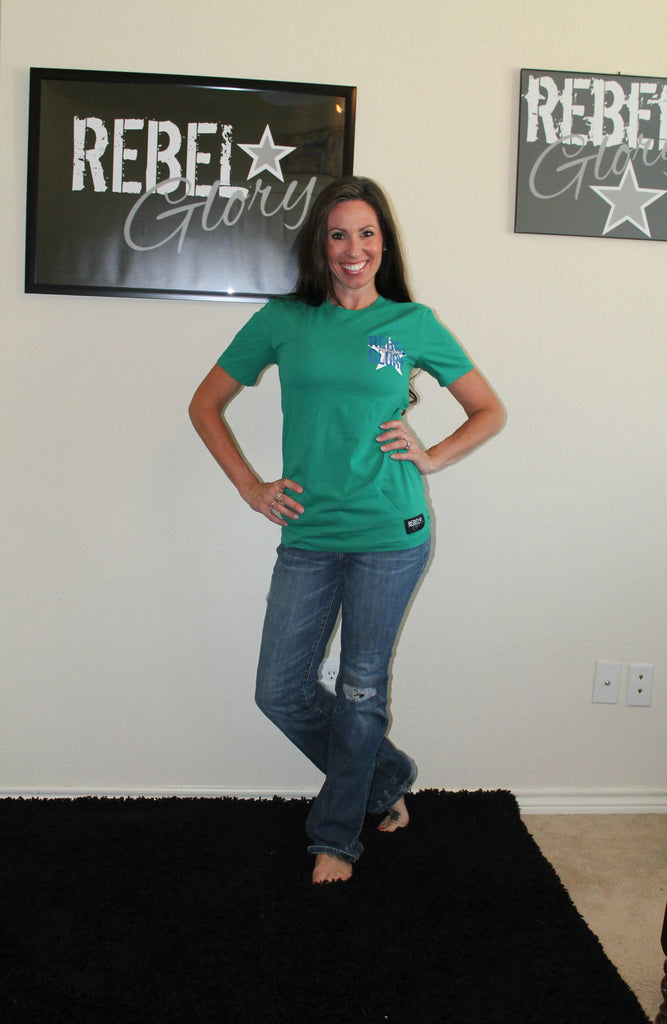 REBEL Glory Green Tee
REBEL Glory Green Tee

$20.00 + $5.00 Flat rate shipping

​Slim Fit unisex shirt

This is a 100% cotton green shirt.  Our lightest, most breathable shirt. REBEL GLORY on the left breast area printed in blue.  REBEL GLORY lays on top of a grey star outlined in white. On the back REBEL Glory logo is printed in blue on either side of the light grey star outlined in blue. 

JMR is wearing a Medium.  SRR is wearing a XSmall.
Size Chart
Every garment and size is different.  Below are measurements averages as each shirt is made by hand therefore sizing will vary with each shirt.
​Size                Width (inches)           Length (inches)                        

XSmall              17.0                               27.5
​Small                 17.5                              29.0

Medium             19.5                              29.5

Large                 21.0                               29.0  

XL                       23.0                              31.0 

2XL                     25.0                              31.0

Measurement Instructions:

Width: Start at the arm pit and measure straight across from side to side.

Length: Measure from the edge of the back collar to bottom of garment.

​Proper care instructions:  In order to ensure color quality and to minimize fading of your apparel, it is recommended you wash inside out with cold water.